A "One Stop* Shop" for Texas Concealed Handgun License Courses
Private CHL classes are availabe on weekdays/evenings for groups, couples or individuals (in one, two or three sessions). If interest, please read at least the rest of this page, Facilities and Class Fees page, then e-mail Lonnie at dcsa1996@yahoo.com with requested private class time(s) and date(s).
Scheduled dates and online registration software below. And more "should know info." below that!
Scheduled dates:
"Renewal License" ONLY class:
Wednesday, May 15 6:00 to 10:30+ p.m.
Tuesday, June 18 6:00 to 10:30+ p.m.
You may need to use the scroll bar on the right to view the bottom of the Eventbrite screen above.
Saturday, May 25, 2013 - "Original License" and "Renewal License" class.
Sunday, June 2, 2013 - "Original License" and "Renewal License" class.
Additional dates pending.
You may need to use the scroll bar on the right to view the bottom of the Eventbrite screen below.
You may need to use the scroll bar on the right to view the bottom of the Eventbrite screen above.
Probable changes to web site/class formats and pricing (especially ammunition) pending for 2013.
If coming from the north, be sure to see Directions to DCSA for detour options BEFORE you come.
For west-bounders on FM407, new concrete turn lane is now open to Copper Canyon Road.
"Gun cleaning" session (including focus on AR15) by Richard MacDonald of www.northtexasarms.com on Sunday, April 7 from 2:00 to 3:30 p.m. With exception of supplies costs for individuals' guns, free for all DCSA members (any Freedom Plan member or student in past 12 months).
Unless stated otherwise above, all students for CHL classes listed above should arrive at DCSA by 8:00 a.m. (Coffee usually brewed by 7:45.) "Renewal license" students should plan on packing a lunch (or anticipating that one of the "original license" students can pick you up a sandwich at the nearby Sonic or Subway.) The shooting portion for "Renewal license" students is conducted between 12:00 and 1:00 p.m., with the written test completed by 2:00 p.m. Renewal license students must complete their application (generally online) through DPS (either before of after class). Unless notified otherwise by DPS, renewal license students no longer have to submit new fingerprints or photos.
On 1-day classes, "Original license" students get a lunch break from approximately 12:00 to 1:00, with the "classroom" portion concluded around 7:00 p.m. (Feel free to bring lunch/snacks and/or a small ice chest.)
As of Sept., 2010, DPS has changed procedures for providing the law booklet (CL 16). Since these are used extensively in classes and are sometimes a major inconvenience for students to print off at home, DCSA provides these booklets as a part of the class fee.
For "Original License" students who do want to shoot the same evening, the 50-round "Demonstrations of Proficiency" will begin about 7:15 p.m. for 2 students at a time. Slot assignments will be based upon the order in which online registrations or manual registration forms and $46.88 deposits are received (which means some students may have time to take a "dinner break" and return). Experienced "Original license" students ready to shoot (with no warm-up) on the same evening at the class have a total cost of $99.88.
Other "experienced" students still have the option to shoot on another day (total cost of $139.88 including up to 50-rounds of practice time before 50-round shooting test.)
Novices or those with little experience with semi-automatic pistols should see Handgun Safety, Operations and Marksmanship 101.
Pre-registration is required to insure having a "slot". See printable "Mail-in Registration Form" Once DCSA registration form is received, range session/shooting test "slot" assignments (often in pairs) can be determined on a first received/first assigned basis. (Those who register first get preference time-wise for range session over those who register later.)
The 3 options below describe class costs for new members at DCSA taking an "original license" course. (Members who have joined within the last 12 months or who have a current Freedom Plan pay $31.88 less than the prices shown below).
$ 99.88 : 1 day class for experienced people who take same-day shooting test. (Students should be prepared to step up to the line and shoot with no warm-up).
OR
$ 139.88 : Classroom section on a date above with specific additional time allocated on a subsequent day for 50-round "practice time" and/or coaching, then the 50-round shooting test with student's gun and ammunition.
This "separate day" option is also suggested for those needing to test fire and/or test with a DCSA "training gun". We utilize 4 "work horse" training guns, all in 9mm (by Glock, Kahr, Springfield and Smith & Wesson). These 4 pistols are depicted in a subsequent photograph and text below on this page. Rental cost of any or all of these 4 semi-autos in conjunction with this option: +$60 including 100 rounds of 9mm ammunition and the opportunity to test fire 1, 2, 3 or all 4 of the guns during the first 50 rounds, then select the most favored for the 50-round shooting test. (Making total cost of class $199.88; this option is not necessarily a substitute for a "Handguns 101" class for pure beginners.)
OR
"Renewal license" students: Current members (orientation within last 12 months or an active Freedom Plan): $28.00
"Renewal license" students: New Members: $59.88.
Option to shoot on a separate day with 50 rounds of practice first: + $40.00.
Active duty military people can present their current ID at class for $10 off any pricing shown above. Veterans can present at class a clean photocopy of DD214 for $10 off original license class or $6 off renewal license class.
While reloaded ammunition IS acceptable for use by those with Freedom Plans, it is NOT permissible in any DCSA class related to CHL course testing.
Students shooting their own guns are welcome to purchase factory ammunition at guns shows or local retailers such as Academy, Bass Pro Shop, Cabella's, Dick's Sporting Goods or Wal-Mart. (DCSA stocks 9mm ammunition for use in our training guns plus a few other calibers for convenience only.)
Students planning to use their own handgun should bring at least 50 rounds of ammunition, plan on no firearms manipulation in the parking lot or classroom and have NO PRE-LOADED MAGAZINES intended for the shooting portion.
Whether or not an individual ever applies for the license, "Original" course includes "Nice to Know" information for those considering purchasing a handgun as well as "Should Know" information for individuals who already own a firearm for personal protection and/or recreation.
In addition to emphasis on safe handling and storage, the "Original" Course covers other "Must Know" material such as "Use of Force" and CHL laws, non-violent dispute resolution, child protective measures, concealed carry holster options, public contact with LEOs, mental states and other selected topics.
One of the most enlightening subjects for many new CHL students is regarding confusion created by some signs posted at various businesses. Many signs, they learn, are not necessarily applicable to license holders ...
For those who do not already know, both the mandatory "demonstration of proficiency" and written test are strictly pass or fail; no other scores are indicated on the "Certificate of Training" (DPS Form CR-100). Students may be given up to three opportunities to pass the written test or the shooting test. After seeing the requirements, most students agree that anyone who can not pass the shooting test (after up to 3 chances) does not need to be carrying a gun in public! (See shooting test on the large silhouette for description of the course of fire. Effective January 1, 2006, the blue "Amazon Man" target pictured in the link was replaced with the B-27 target shown in the photo immediately below (may be 1 of 4 approved colors).


Shorter "Renewal" courses focus heavily on "Must Know" legislative updates. They require another written test and another 50-round "demonstration of proficiency". While renewal courses are often done privately or scheduled independently, they are most commonly available as described above in conjunction with the first several hours portions of "original" classes.
DCSA's "standard" scheduled CHL courses should be considered a "Phase II" course. Per DPS recommendation (and common sense!), Texas CHL Courses are not intended to license and place "first-time" pistol shooters on the streets. While "pure novices" are certainly welcome to take the classroom portion of the CHL course alone or with friends, Handgun Safety, Operations and Marksmanship 101 is strongly recommended at a separate time.
The way the Texas CHL law is written, it requires that if an individual wants to be able to legally to carry a semiautomatic (SA) handgun, he/she must use a semiautomatic of at least 32 caliber in the "demonstration of proficiency" (shooting test). Even though many students may own or plan to carry only a revolver (NSA license), they commonly opt to use a 9mm semiautomatic for the "demonstration of proficiency" in order to have the option of carrying either -or both. (Texas law allows "carry" - on or of your person - of as many handguns as you can keep concealed; defined in book/class.)
Unless they have a real compelling need, students who do not already own a handgun that they are comfortable with are not necessarily encouraged to go out and buy one before a class. While the CHL class does not include a recommendation for any specific handgun, students in this course (and particularly in Handgun Safety, Operations and Marksmanship 101. ) will learn some of the pros, cons, and "tradeoffs" with various options. (The preceding is included to hopefully keep you from being another who says "Gee, I wish I had known that before I spent the money on this thing ... " ). A special segment is also included in original license classes on holsters and "carry options".
Private classes:

When privacy and/or timing to fit personal schedules are more important to some individuals than cost, all types of our various handgun training can be scheduled for as few as 1 or 2 students (see Facilities and Class Fees ; $200 deposit required on privately-scheduled classes).

With at least 4 (experienced) students and non-refundable payments in advance, private classes are sometimes available on weekdays or weekday evenings at "scheduled class" pricing.

A "hybrid" option that is sometimes arranged with busy people, is to take as many hours as possible of a "scheduled class", then complete the balance on a private basis ($60 per hour on weekdays/$80 per hour on weekends).

Payments to DPS:

Subsequent current cost of a 4-year "original" license is $140 (money order payable to Texas Department of Public Safety) for most individuals. (Those 60 and older and military veteran pay only $70 for a 4-year license.) Military vets who do not have a copy of the DD-214 should check out http://www.archives.gov/veterans/military-service-records/get-service-records.html

While we certainly do not suggest waiting that long, students obtaining an application packet from DCSA have up to 2 years from the first date of training to get their paperwork and payment submitted to DPS. Those who pay for license online and get packet directly from DPS have only 1 year to get everything submitted.

"Original License" students should understand that DPS has up to 60 days after receipt of an applicant's materials to complete the background check and to mail a license.

Current cost (payable to DPS) for a now 5-year "Renewal" license is $70.00 ($35 for military vets or those age 60+). The CHL unit in Austin typically mails license holders a renewal application letter approximately 5 to 6 months before their license expires (on birthday). The "Certificate of Training" form on renewals is valid for only 6 months from date of issue and should not be submitted more than 6 months prior to the license expiration date.

Current license holders should understand that the CHL unit, by law, has up to 45 days to process a renewal license, so one should not procrastinate in completing a renewal class. If the new license is not received by one's birthday, CHL privileges no longer exist until the new license is "in hand".

CHL folks who have let their license lapse do have a one-year "grace period" to complete a renewal course and get the paperwork submitted to Austin. No CHL privileges exist until a new license is received, but starting completely over is not required.

Effective Sept. 1, 2007, some license holders due for their 3'rd renewal may get the option to skip the CHL renewal class and send DPS the applicable paperwork. Those who believe they fall into this category (of not needing the class or Form CR-100) are encouraged to call DPS at 1-800-224-5744 for confirmation (as they may not necessarily clearly provide such in the paperwork sent to those needing to "re-up"). With that said, in our not-so-humble opinion, even those who are not required to take a renewal class should do so, if for nothing else, to get timely and accurate updates on changes in the laws (and interpretations thereof).

For more details on CHL classes at DCSA, try to attend an "Open House". Or, if you still have questions after a review of this web site and the links here, send E-mail to dcsa1996@yahoo.com or call Lonnie Ward at 940-241-2376. (Number goes to cell phone, so he may or may not be in a position to talk at the time.)

To be eligible for a Texas Concealed Handgun License, you:
Must be a legal resident of Texas, or apply for a non-resident license
Must be at least 21, unless active duty or honorable discharged from the military, then at least 18
Must not ever have been convicted of a FELONY
Must not be currently charged with a Class A or Class B MISDEMEANOR or FELONY
Must not be chemically dependant, including alcohol
Must be capable of exercising sound judgment
Must not have been convicted of a Class A or Class B misdemeanor, or a disorderly conduct in the past 5 years
Must be fully qualified under federal and state laws to purchase a handgun (any domestic violence conviction can be major problem)
Must not be delinquent in child support payment or property taxes.
Must not be restricted by a protective or restraining order involving a person
Must not have been prosecuted for a felony grade juvenile delinquent conduct in the previous 10 years
If you have a specific eligibility question after reading the requirements above, call the DPS helpline at 1-800-224-5744 or send an email to chl@txdps.state.tx.us
Effective June 2012, DPS is now using applicant's Driver's License Photo on newly issued CHLs. (It is a "check box" item on their online application.) Therefore, you do not necessarily need to pay anyone to take passport photos as we can make note on the applicable form in class to "use current TX DL photo". (And disregard the stated requirement on the DPS "checklist".)
"Original License" Texas CHL courses at DCSA include:
* Minimum 10 to 15 Hour Course Training
* Eye & Ear Protection, Target and Administering of 50-round "demonstration of proficiency"
* DPS Laws Booklet (CL 16)
* "Certificate of Training" (Form CR-100) upon completion
"Renewal License" CHL courses at DCSA include:
* 4 to 6 Hour Course Training
* Eye & Ear Protection, Target and Administering of 50-round "demonstration of proficiency"
* DPS Law Booklet (CL 16)
* "Certificate of Training" (Form CR-100) upon completion
Not included:
Fees ($70 or $140) payable directly to DPS for 4-year license. Renewals: $35 or $70 for a 5-year license.
If not paid previously within the past 12 months, $31.88 per top box on DCSA "Fee Schedule" page (assuming a new member, $31.88 is included the pricing mentioned above)
9mm rental gun and 50 rounds of ammunition: +$30.00
2 Passport photos (only if required by special circumstances): + $10.00
* Fingerprinting: As of March 1, 2011 DPS accepts electronic fingerprints only from the State of Texas' sole source vendor. See the link below to DPS web site for the current method of setting up an appointment. (The most convenient location in our area is often the L-1 office on Edmonds, near I-35 and Main Street in Lewisville.)
Individual Range Sessions if desired/required to get student's proficiency level up to at least 70%. A 50-round practice session, including personalized coaching if desired, just prior to the 50-round CHL shooting test can often be scheduled individually on a subsequent day for + $40 (with student bringing own gun and ammo).
Or, students will have the option of practicing and testing with the following semi-automatics for an additional $60 (including 100 rounds of 9mm ammunition). In sequence pictured below:
Kahr K-9 (single stack magazine, slim grip)
Springfield XD-9-M (with interchangeable back straps, ambidextrous magazine release)
Glock 19
Smith & Wesson M&P Compact (interchangeable backstraps and ambidextrous slide latch). Note: slightly smaller than a Glock 19 and slightly larger than a Glock 26.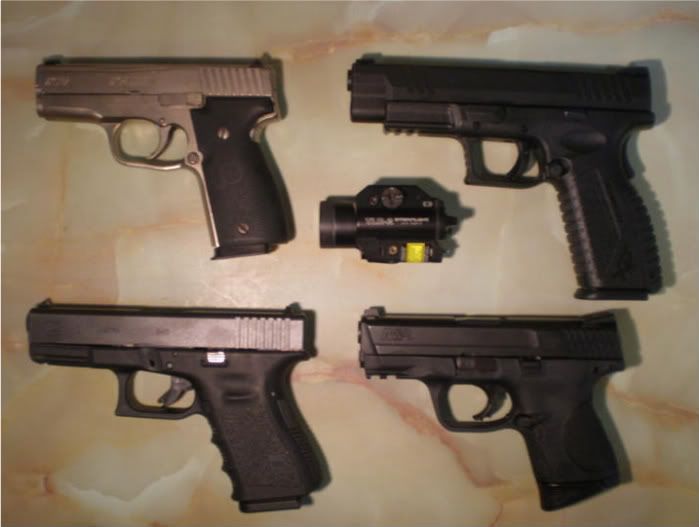 Of the literature in DCSA driveway, the white box is typically stocked with a single sheet that contains the DCSA CHL Class Registration Form. Those who would like to get started "on-line" can (1) print out the DCSA "Class Registration Form" from this website, then forward it to DCSA with applicable deposit (typically $46.88 per student) or use the Eventbrite software in the link above.
To complete as much as possible of the procedure with DPS online, follow the instructions given at http://www.txdps.state.tx.us/administration/crime_records/chl/chlsindex.htm Those using this option (and paying with a credit card) will have up to 1 year to get all of the required items (on checklist that DPS will mail) submitted to DPS - or will have to pay the license fee again.
As of March 1, 2011, for fingerprinting, "original license" applicants must use http://www.l1enrollment.com/state/?st=tx . You will need to first get the application completed via the DPS site link in the paragraph above. Once your information is "in the system", you should to be able to go into the L1 link in this paragraph to schedule an appointment for their electronic fingerprinting (and their subsequent electronic submission to DPS).
Current Texas CHL holders in need of a "change of address" or "change of name" form (submittal and $25 payment required within 30 days!) should work through the Texas DPS link above.
Individuals with interest in carrying out of state most definitely need to check out various online sources, such as http://www.texaschlforum.com/viewtopic.php?f=9&t=4738 and http://handgunlaw.us/ . http://www.carryconcealed.net/ has a "trip planner" feature that may also be helpful.
A highly recommended web site, particularly as a form of "continuing education" after the class is www.texaschlforum.com (where Lonnie Ward's user name is "Greybeard").
Another excellent web site, especially for the ladies, is www.corneredcat.com.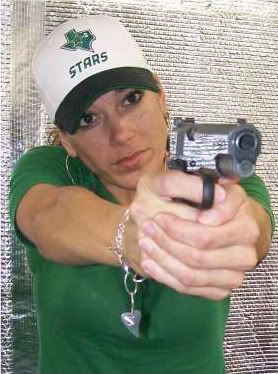 As of early 2013, over 600,000 Texans had an active Concealed Handgun License.
Like many endeavors, obtaining the Texas CHL requires
(1) Time
(2) Money
(3) Motivation
Getting them all 3 together at the same time is up to you!!!
IF YOU DO complete a registration form online right now via the Eventbrite link above or complete a DCSA registration form and get it to us with a $46.88 deposit or come out during one of our Open House periods, we will work toward helping you obtain the Texas CHL.
If you don't, we won't. :) Thank you.
-------------------------------------------------------------------------------------
About the Instructor: Lonnie Ward is the General Manager at Denton County Sports Association, Inc. Unlike many "part-timers" in the business, he has been certified as a Texas Department of Public Safety CHL instructor since the inception of the program in 1995. He is also a National Rifle Association Range Safety Officer and certified instructor in Home Firearms Safety, Rifle, Pistol and Personal Protection. Mr. Ward is a 29-year resident of Flower Mound, the proud father of two graduates of Marcus High School and the 17'th inductee into Texas Parks and Wildlife's Hunter Education Hall of Fame. When not out of the area enjoying the great outdoors, he can be reached at dcsa1996@yahoo.com.
Freedom Plan Independent Practice option "walk through" and paperwork completion is sometimes available on same day as class. If interest, please let instructor know early in the day. It saves time if students have read in advance both of the links below:
Freedom Plans and Self Defense Insurance